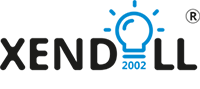 Foshan Xendoll Intelligent Technology Co.,Ltd.
Foshan Xendoll Intelligent Technology Co.,Ltd. is located in Shunde High-tech Industrial Zone. And it's an entity enterprise specializing in the development, manufacture and promotion of intelligent equipment and machine tools for educational purposes.
The "XENDOLL" brand held by the company was founded in 2002, taking the lead in introducing industrial design and manufacturing elements into the domestic education industry. The products are widely used in courses such as campus makers, scientific and technological innovation, labor technology, metalworking and woodworking, general technology, numerical control training, electromechanical control technology, etc. So as to create better implementation conditions for quality education and hands-on practice, actively contribute to the cause of education. At present, the best-selling products include: safety micro machine tools, maker machine tools, desktop CNC machine tools, micro laser engraving machines, small CNC machining center, industrial 4.0 factory production line teaching platform.
Innovative and practical product design, exquisite production technology, strict inspection means, excellent product quality and professional and meticulous service have been highly praised by the majority of users. Customers are all over the country and exported to overseas markets. Over the years, we have won numerous certificates and titles, such as "star enterprise in China's national conditions", "key new products of Guangdong Province", "skill test project equipments of National Youth Science and technology innovation competition", "construction project of national support for youth extracurricular activity places", etc. Our products have passed the inspection of the quality supervision department, and product liability insurance is purchased every year to endorse the safety of users. Our company has been a member of China Educational Instrument & Equipment Association(CEIEA®) for years, and has passed ISO9001 international quality system certification.
The age of advocating one skill, not only academic qualifications but also ability has come. Vigorously promoting the cultivation of "craftsman spirit" has become an important strategic measure for China to transform from a big manufacturing country to powerful one. And it can realize the grand blueprint of made in China 2025. Not only in China, but also all over the world. The XENDOLL teaching equipment gives each student the opportunity to receive industrial enlightenment education. They can safely use the machine, and make the education and ability complement each other!
We own Xendoll trademark of mini multipurpose machine; we can provide rapid and professional service for our client. Currently, we are developing pen-size gas detector as our new product. Please visit our website or contact us for more details. We hope to cooperate with you in the near future.